| | | |
| --- | --- | --- |
| | Winston-Salem Dash | 59 |
---
Notice: All logos on this page are included within the parameters of 17 U.S.C. § 107, which states that the reproduction of a copyrighted work for purposes of criticism and/or comment is not an infringement of copyright. No challenge to the copyrights of these logos is intended by their inclusion here.
---
Posted 2023 April 29
NOTE: This review incorporates text from the previous review for the Winston-Salem Dash, which was posted on 2016 June 5.
I want to start this review off by talking not about the current baseball team in Winston-Salem, but about a hockey team that was in Winston-Salem back in the 1970s.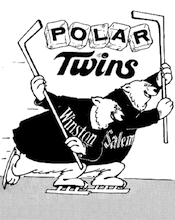 The Polar Twins were Winston-Salem's entry into the original Southern Hockey League. I mention them here for a couple of reasons. One, because that logo amuses the hell out of me, and two, because there is, believe it or not, a sort of connection to the Dash.
First, the logo. It makes sense: a pair of polar bears to represent "polar twins". One of them has Winston on his jersey and the other has Salem. But what kills me about this is that if you look closely, you'll see that Winston is written in the same font as Winston Cigarettes, and Salem in the same font as Salem Cigarettes. As you can probably guess, Winston cigarettes and Salem cigarettes were produced in Winston-Salem, by what was then the R.J. Reynolds Tobacco company. The city was proud of its association with cigarettes in the 1970s. What a difference fifty years makes.
So what has that got to do with the Winston-Salem Dash? Well, as it turns out, the Polar Twins were named after this team. Sort of. Winston-Salem has had numerous baseball teams over the past century or so (the first actually being a few years older than Winston-Salem itself, having been founded before the cities of Winston and Salem merged), and every one of them has called itself the Twins for at least part of its existence. (This did not indicate an affiliation with the team in Minnesota, who didn't become the Minnesota Twins until 1960.) Most of these teams never used any other name, so the name Twins is fairly closely tied to the city even if the presence of Minnesota's team means it hasn't been used much in recent years. The hockey team clearly wanted to tie into this nickname, but wanted to put their own spin on the name. (It could be the baseball team still had the copyright on the Winston-Salem Twins name; I've no idea.) Thus, Polar Twins instead of Twins.
Twins is one of those old-timey baseball names: descriptive, but not particularly impressive. Over the years the current team has tried a few other names in a (largely futile) attempt to be have a more impressive name. The first attempt (if one ignores years where they used their parent team's name or a variant thereof) was in 1984, when they became the Winston-Salem Spirits. That's probably the best name the team ever had, which should tell you how bad the others were. After spending roughly a decade as the Spirits, the team became the Winston-Salem Warthogs. Then, finally, in 2009, the Warthogs became the Winston-Salem Dash.
I'm willing to forgive the frequent name changes; this is understandable as a team realizes that its name sucks and they need to pick something else. But you'd think that sooner or later they'd make a name change that was actually good. Warthogs, of all things? Sure, the North Carolina Zoo had just added a warthog exhibit at the time. But the North Carolina Zoo isn't that close to Winston-Salem. Using the roads that existed at the time, it would have taken over an hour to get from the baseball stadium to the zoo.
Then there was this name. Winston-Salem Dash. The word dash is supposedly a triple-meaning, partly referring to the hyphen in the city's name, partly referring to the act of dashing from one base to the next, and partly a general speed reference relating to the region's racing heritage. (The oldest weekly racetrack for NASCAR is in Winston-Salem, and let's face it, pretty much the entire western half of the state is littered with racing heritage, largely because pretty much the entire western half of the state used to be littered with moonshiners, and moonshine is racing's heritage, at least if you're talking about NASCAR.) Somehow, none of this helps in my mind. Dash just isn't a good name. And it's a not-good name that doesn't even lend itself to a good logo.
That said, even given my low expectations, they failed to meet them. Maybe it's just me, but I'd expect a logo for a team called the Dash to feature, you know, a dash. This logo completely avoids it. There's no way they couldn't have found a way to shoehorn a dash into a WS monogram. But they couldn't be bothered.
Not that I think it matters all that much. I imagine it's only a matter of time before this team changes its name again. I don't have much hope that it'll be any better, but at least it'll be different. Who knows? Maybe one day they'll just throw in the towel and go back to the Twins name. Just for old times' sake. If they do, I hope they write Winston and Salem in the fonts from the cigarettes. You know, just for old times' sake.
Final Score: 59 points.
Penalties: Reference, 10 pts; Singular, 15 pts; Letter, 24 pts; Name, 10 pts.
Bonuses: None.
---
This page Copyright ©2016-2023 Scott D. Rhodes. All rights reserved