| | | |
| --- | --- | --- |
| | Nashville Sounds | 47 |
---
Notice: All logos on this page are included within the parameters of 17 U.S.C. § 107, which states that the reproduction of a copyrighted work for purposes of criticism and/or comment is not an infringement of copyright. No challenge to the copyrights of these logos is intended by their inclusion here.
---
Posted 2017 August 28
Regular readers may notice that this is the second review in a row to come two weeks after the previous review instead of the usual one week later. This is some deliberate timing on my part. As I was working on the reviews for this season, I saw that I was scheduled to post the review for the Nashville Sounds about the time I was due to go on a vacation to Nashville. I therefore decided I would wait until I'd actually been to Nashville, and include my impressions of Nashville into the review. After all, the name is fairly straightforward (for those who don't know, the "Nashville sound" is a subgenre of country music), and so is the logo (the name of the team underlined by a sideways F-hole), and when there's not much to say about the name and logo I often resort to talking about the town. So let me give you my impressions of Nashville.
Man, the highways in Nashville suck.
Okay, that's a bit harsh. But while each day in Nashville brought new, good things, the one thing that lasted all week was dealing with (or avoiding) the highways and what a pain in the neck they were. The issue is basically that three interstates (24, 40, and 65) all meet in Nashville, and the way they meet is that there's this very small ring of interstate surrounding the core of downtown that they all get routed on for a short distance (the entire loop is only about nine miles in circumference). When you're trying to go anywhere in Nashville the directions tend to be something along the lines of "now merge into the highway on the right side and GET IN THE LEFT LANE RIGHT NOW because in half a mile the highway will split and you need to take the left fork, but as soon as you do that GET ALL THE WAY OVER TO THE RIGHT IMMEDIATELY because that's where your exit will be". This is what experts refer to as "piss-poor highway design". It might not have been so bad on a normal day, but I was there the week of the Great American Eclipse, a week when roughly a million tourists (including me, to be fair) descended on the city. For the record, that's roughly one and a half times as many people live in Nashville, so these roads were dealing with over twice as much traffic as they normally do. In other words, the poorly-designed highways were full of out-of-towners frantically trying to follow the insane directions their GPS apps were giving them while trying to avoid hitting or being hit by all the other out-of-towners who were doing the exact same thing. I hadn't been there twenty-four hours before I realized that if I was going anywhere near downtown I should just stick to the surface streets. But even after I figured that out I still believed that the highways would be fine if I was going away from downtown. I was wrong. I managed to get caught in traffic jams at 10 a.m. How can you have a traffic jam at that time of day? Surely most of the people who actually lived in Nashville were at work by then, right? Well, maybe not with all of us tourists gumming things up.
So Monday was Eclipse Day and my wife and I basically spent that day watching the Moon eat the Sun (more on this later). The rest of the week was spent doing typical touristy things. Typical for us, that is, not typical for Nashville. I think most tourists to Nashville probably check out places like the Country Music Hall of Fame and the Grand Ole Opry. My wife and me? Not so much. We're not big country music fans (my iTunes collection has over three thousand tracks, and the only country song on it is Johnny Cash's cover of "Hurt"). So instead we checked out places like The Hermitage (Andrew Jackson's plantation), the Tennessee State Capitol, and the Lane Motor Museum. Oh, and we hit a couple of distilleries, because if my wife and I vacation somewhere that has anything resembling a booze industry then you can rest assured we will be checking it out.
And we went to the Parthenon. For the most part I'm resisting the urge to give you details about all the places I visited on vacation because I know how boring that can be, but the Parthenon is too ridiculous to not talk about. If you know your ancient history then you know that the (original) Parthenon is in Athens, and even if you don't know your ancient history you know that it's somewhere in Greece or Rome or one of those really old places that's full of ancient ruins like the Colosseum and the Sphinx and, well, the Parthenon. Tennessee is not one of those really old places. So why, you may ask, am I talking about visiting the Parthenon in Nashville? Because, I may answer, there's a replica of the original Parthenon in Nashville. And you may then ask, why does Nashville have a replica of the Parthenon? Well, I might answer, it's because Nashville used to be known as the "Athens of the South". And to that, you may respond, no, really, why did they build a replica of the freaking Parthenon in Nashville, and don't give me any bullshit about "Athens of the South" this time. And I might sigh and say, but that really is—, and you might interrupt me and say, I mean it, none of this Athens of the South garbage.
And then I might would mutter under my breath, Look, asshole, I'm trying to tell you the fucking reason and it's not my fault if you don't like it. But then I'd calm down and explain that it was originally built for Nashville's Centennial Exposition in 1897. And then I'd tell you don't you dare ask why a Parthenon because I've already led you to this water twice and you refused to drink it so why should I lead it to you a third time, just die of thirst for all I care. But I'd go on to explain that it was originally intended as a temporary structure just for the Expo but everyone in town decided they really liked it because...well, I'm not really sure why they liked it, but it probably had something to do with there not being a lot of ancient Greek temples in the United States. So they left it up because everybody loved it. Well, really they left it up because tearing it down would be expensive, but they saved face by saying they were leaving it up because people loved it. And they did. There was just one problem: since it wasn't built to last, it didn't, and after twenty years or so it was looking more ruinous than the real Parthenon looked despite not having the excuse of being over two thousand years old. So the people of Nashville tore it down and rebuilt it. And to make certain this one would be as accurate as possible, they made it out of concrete. No, seriously. The thing is made of concrete. If you read the signs at the Parthenon, you will see they explain that they did this so they could make the color match that of the original. If you look at color pictures of the two, you will see that the color of the Parthenon in Nashville doesn't come close to matching the original.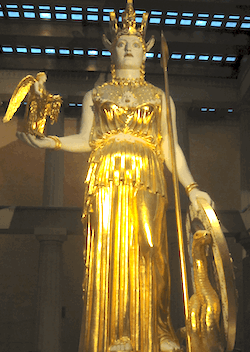 Nashville's Parthenon, incidentally, is a replica of how the original Parthenon looked when it was first built, not of how the (half-destroyed) original Parthenon looks today. And for decades there was a problem with that, which is that when the original Parthenon was first built it had a gigantic statue of Athena in it. So to be a proper replica of the original Parthenon when it was first built, they needed to replicate the gigantic statue of Athena. The Parthenon in Nashville was lacking this not-small detail at first, but at some point in the 1980s they decided to fix this. So they hired an artist to make as accurate a replica of this giant statue as possible, taking into account the fact that the original statue was destroyed centuries ago and all the descriptions of it are sort of vague so no one actually knows what it looks like. But the artist was undeterred, and did a lot of research and made a lot of educated guesses and made a statue which, um...well, it certainly is something, isn't it? I've put a picture of it to the right because, quite frankly, words could not possibly describe this.
First of all, please understand that this thing is huge. The little winged figure in Athena's hand is roughly the size of an actual human (if that human is a pro basketball player). Athena herself is something like forty feet tall. And yes, that's real gold covering most of the statue, because apparently the original statue was mostly covered in gold. My wife, who had been giggling every time we drove by the Parthenon (and it was close enough to where we were staying that we did so at least once a day), just about collapsed to the ground laughing when she saw this. And I don't blame her one bit. To call this thing tacky is an understatement. To call it kitsch is an understatement. As I said, no words can describe this.
Please understand as I say this that I do not intend to criticize the artist, nor the Nashvilleans who commissioned the artist. This is not the artist's usual style (I found his website which includes pictures of his other works, and he's actually quite good). Remember, the point of this was to make something as close as possible to the original Parthenon's original statue. By all accounts, the original statue almost certainly did look quite similar to this. That means it's not the artist's fault. He did not take an elegant idea from ancient Athens and make it tacky. The ancient Athenians were the tacky ones, and he just properly reproduced it. You can argue that he should have tried to make it less tacky, but he was specifically hired to make it accurate. In short, feel free to laugh at this thing, just don't laugh at the artist, or the people of Nashville who hired him. If you must then you can laugh at the people of Nashville who put a Parthenon up in the first place, but they're all dead and laughing at dead people is just mean.
Let me close by briefly discussing the total eclipse. I won't put up a picture, because I was more interested in seeing the eclipse then getting a good picture of it (I did spend two seconds taking a quick snap, but it didn't come out right at all). And really, no picture would do it justice. Even the really good photographs taken by professional photographers don't do it justice, because seeing a picture of the eclipse is like listening to a live album: it's enjoyable in its own right but it doesn't begin to duplicate the experience of being there.
I'm sure at least a few of my readers saw the total eclipse, because upwards of one American in ten did. I'm sure plenty of others didn't go to an area with the total eclipse but did see a partial eclipse from where they live. To those of you who saw a partial eclipse, let me say this: There's another total eclipse in seven years and you need to go see it. I'm not exaggerating when I say that the difference between a 99% eclipse and a total eclipse is great than the difference between a 99% eclipse and no eclipse at all. I won't personally call it life-changing, but I get why some people do. Go see the next one if you didn't see this one. Heck, go see the next one if you did see this one. It's sort of like the statue of Athena in the sense that words can't describe it. Except that this time, I mean that in a good way.
Final Score: 47 points.
Penalties: Wordplay, 23 pts; Letter, 24 pts.
Bonuses: None.
---
This page Copyright ©2017 Scott D. Rhodes. All rights reserved