| | | |
| --- | --- | --- |
| | Missoula PaddleHeads | 236 |
---
Notice: All logos on this page are included within the parameters of 17 U.S.C. § 107, which states that the reproduction of a copyrighted work for purposes of criticism and/or comment is not an infringement of copyright. No challenge to the copyrights of these logos is intended by their inclusion here.
---
Posted 2023 August 27
If you enjoy the site, you should probably send a bit of thanks the PaddleHeads' way. Because if it wasn't for teams like this, I probably never would have been inspired to start the Bush League Factor in the first place.
I normally start with the name and then move on to the logo, but let's start with the logo this time. It is, to put it simply, ridiculous. We have a moose's head in the logo, but not even the entire moose's head. It appears to be the case that the moose is standing in water that almost comes up to his (female moose don't have antlers so this must be a boy moose...and now that I type that, I am struck by the fact that "boy moose" sounds like some kind of sexual slang term whose meaning you probably don't want to know the meaning of and I certainly don't) nose. Or maybe it's actually swimming. Yes, moose can swim, but from the pictures I saw, they hold their head a bit higher than this when doing so because, you know, they may not be the smartest species in the world but they're not that stupid. Anyway, I can't help but wonder if maybe the person who drew this had a better handle on how to draw the top of a moose's head than on how to draw the bottom of a horse's head and this was their way of hiding that.
The moose has acquired a few objects in his antlers. In his right antler, there's a baseball. Maybe a home run ball landed in the river? (Given the location of the PaddleHeads' stadium this is actually plausible, although you wouldn't expect a player capable of hitting the ball that far to be in such a low-level league). In the right antler, what appears to be the end of a fishing line. Whether the other end of the fishing line is still attached is unclear, as the part you can see seems to wrap around the antler and then just sort of disappear. It's not inconceivable that the fisher is still attached to the other end and is underwater. It may even be that the moose is standing on the poor fellow. That would explain the deranged look on the moose's face.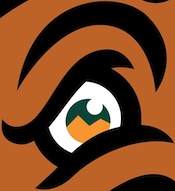 To the left is a strange combination baseball bat/boat paddle which I'm fairly certain wouldn't work very well for either purpose. I'm sure that's supposed to be symbolic of something but hell if I know what. Finally, if you look closely you can see a couple of mountains reflected in the moose's eye. I really want to like that part, because it is a clever touch, and it's executed about as well as it could be given how little space there is to work with. But given how close orange and red are to each other, the unfortunate result is to just make the moose look more enraged. Maybe they should have just put the mountain in the background? The logo already has too much crammed into it so it's not like adding one more thing would break it.
So anyway, now let's talk about the name. Without looking at the logo you might assume that a paddlehead is a type of fish, seeing as how there are other types of fish called the steelhead, the flathead, the armorhead, and the flathead. Then you see the logo and wonder if maybe a paddlehead is a kind of moose. And it is, sort of. It's a completely made up name intended to refer to a moose, because moose antlers are sometimes called paddles. Yeah, I think it's silly, too. It's also supposed to somehow represent Missoula's lifestyle, and no I didn't make that up, it's a quote from the team VP. Because of course it is; doesn't that sound like something a company VP would say? How, precisely, the term PaddleHead is supposed to represent the Missoula lifestyle I'm not sure, but given the logo I can only assume that the Missoula lifestyle involves a lot of moose. But hopefully not boy moose, because (as I already said) I don't want to know what that means.
So there you have it. It's a ridiculous name and a ridiculous logo, but as I said before if you like this site than you should be thankful for names and logos like this because it's teams like this that allow this website to exist.
Which, if you think about it, is probably another strike against the team.
Final Score: 236 points.
Penalties: Software, 27 pts; Compound, 34 pts; Script, 7 pts; Scenery, 11 pts; Equipment (egregious), 27 pts; Humanoid (the eyebrow), 30 pts; Colorful, 31 pts; Cartoon, 47 pts; Name, 10 pts; Logo, 12 pts.
Bonuses: None.
---
This page Copyright ©2023 Scott D. Rhodes. All rights reserved