| | | |
| --- | --- | --- |
| | Inland Empire 66ers | 204 |
---
Notice: All logos on this page are included within the parameters of 17 U.S.C. § 107, which states that the reproduction of a copyrighted work for purposes of criticism and/or comment is not an infringement of copyright. No challenge to the copyrights of these logos is intended by their inclusion here.
---
Posted 2021 May 23
NOTE: This review incorporates material from the previous Inland Empire 66ers review, originally posted 2011 June 5
United States Highway 66, better known to many as "Route 66", is considered iconic by many Americans. It gets such nicknames as "the Mother Road" and "America's Main Street". It has been immortalized in song, had a TV show named after it, and been lionized in numerous other ways.
I totally don't get it.
Seriously, people, it was just a highway. There's hundreds of highways in America. And for much of its length it wasn't really even a highway, at least to those of us who think of highways as having medians and multiple lanes in each direction. It was just a two-lane road that went through a part of the country that was largely populated by cactuses and tumbleweeds. In fact, it was so unimportant that it doesn't even exist anymore. Of the original "main" U.S. highways (those whose number was a one- or two-digit number, plus 101 for some strange reason) less than ten of them have been decommissioned, and Route 66 is one of those less than ten. Some icon. Its boosters will try to tell you that it was somehow the most "authentic" highway (whatever that means), going through the most "authentic" part of America (again, whatever that means). Excuse me? I don't regard any part of America to be more authentic than any other, but if I had to point to one area as being more authentic then I'd probably point to the part where the American Revolution was fought. And US-66 never came anywhere near that part of the country.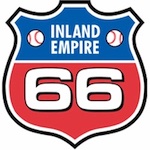 My opinions nonwithstanding, the people of San Bernardino consider this long-dead road to be an extremely important part of the town's heritage, which probably says more about the town than they want it to. So they named their baseball team after the highway. Their original logo was even intended to look like a sign for Highway 66, although it was pretty inaccurate as such things go. Somewhere along the way they decided that was too boring (they were right), and they decided a new logo would be better (they were wrong). The result? Yet another lame, cartoony drawing of something other than a baseball player playing baseball, using something other than a baseball bat as a baseball bat. In this case, the something other than a baseball player is a car mechanic. This is not a positive picture of Route 66 they're painting here. You were out on the open road, having the time of your life, and then suddenly CLANK! ker-chucka ker-chucka ker-chucka and your engine kept making that sound for forty-five seconds or so and then it quit making any sound whatsoever, and you had to find a phone out in the middle of absolute nowhere in the days before cell phones and call a tow truck who probably gouged the hell out of you to tow the jalopy to the nearest car mechanic, and you really have no choice in who your mechanic is because you ain't from around here are you and this ain't the big city oh no siree the next mechanic is a hundred and fifty miles from here and you've already paid way too much just to get the car towed here, but hopefully the mechanic will turn out to be all right and oh holy shit this lunatic is just hanging out swinging a three-foot-long wrench like it was a baseball bat and who the hell even makes wrenches three feet long and why did this guy buy one and oh dear god now he's talking about how he used to be the star hitter on his high school baseball team and he even got scouted by the majors but the extent of his pro career was three games in the rookie leagues and then his knee blew out and that was the end of it and dear god man would you please just shut up and fix my car only you know you can't say that or you'll piss him off so now you get the spend the next four hours listening to him talk about his glory days playing for the Middleofnowhere High School Dipshits while he works on your car and honestly death by heat stroke is starting to sound like a viable option but oh thank god he's finally finished and you know what just fuck this open road shit you just wanna go home.
Oh, and do you see the liquid flying off that bat/wrench? I think it's supposed to be oil, but hey, it might be blood for all I know. You dodged a bullet there, my friend. Be glad you kept your mouth shut or he might have used that wrench on you and who even knows what he might do with your body afterwards, maybe make a suit out of your skin or something.
See, everyone? This is why I stick to the interstate system.
Final Score: 157 points.
Penalties: Region, 8 pts; Ers, 26 pts; Cartoon, 47 pts; Player (egregious), 103 pts; Name, 10 pts.
Bonuses: None.
---
This page Copyright ©2021 Scott D. Rhodes. All rights reserved