| | | |
| --- | --- | --- |
| | Mariachis de Guadalajara | 18 |
---
Notice: All logos on this page are included within the parameters of 17 U.S.C. § 107, which states that the reproduction of a copyrighted work for purposes of criticism and/or comment is not an infringement of copyright. No challenge to the copyrights of these logos is intended by their inclusion here.
---
Posted 2022 August 27
Yes, the Mariachis in Mariachis de Guadalajara refers to the musicians. That's all it could mean, because the word has no other meaning other than the music and the people who play it, and never has had any other meaning. That of course raises the question of where the word comes from if it's never had any other meaning, and the answer to that is that nobody really knows. Oh, there are theories, of course. The most common one is that it's a corruption of the French word mariage, because during the French occupation of Mexico the music came to be associated with wedding ceremonies. There's just one problem, which is that the French didn't poke their noses into Mexico until 1861, and the first recorded use of mariachi is from 1848. Other theories are that it comes from the indigenous name for a local tree (opinions seem to vary as to precisely which tree and why the music form is named after a tree), the name of a ranch (where the ranch got its name isn't explained), and even that it's named after a woman with the first name Maria and the last initial H.
In short, nobody knows where the name comes from, but that's never stopped people from making shit up in order to have some explanation, has it?
What is known is that the style originated in Jalisco (an old name for the style is son jaliscience, or "Jaliscan sound"). Since Guadalajara is the capital of Jalisco, the name seems reasonable enough.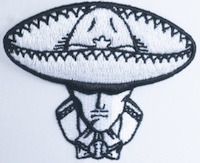 As you can imagine, I'm really disappointed that their logo is nothing more than an interlocking M and G. They actually sell some merchandise with a drawing of a mariachi on it, but this isn't the logo. Why they would go to the trouble to design this "logo" but not make it their actual logo is beyond me. Especially since it's a pretty nifty logo. It would be so easy to make a drawing of a mariachi that's cheesy as hell, but this isn't. This looks good. It's so much better than an interlocking M and G. So why isn't it the logo, and why do they sell merchandise with it given that it isn't the logo?
Then again, they also sell merchandise that has a drawing of a lucha libre mask, and merchandise that has a drawing of a dragon. Are these rejected logo concepts? The work of a bored staff member? I have no idea. All I know is that the drawing of the mariachi looks pretty cool, and they should make it the official logo.
Final Score: 118 points.
Penalties: Letter, 24 pts.
Bonuses: Local, -6 pts.
---
This page Copyright ©2022 Scott D. Rhodes. All rights reserved