| | | |
| --- | --- | --- |
| | Tecolotes de los Dos Laredos | 37 |
---
Notice: All logos on this page are included within the parameters of 17 U.S.C. § 107, which states that the reproduction of a copyrighted work for purposes of criticism and/or comment is not an infringement of copyright. No challenge to the copyrights of these logos is intended by their inclusion here.
---
Posted 2023 August 21
Tecolotes de los Dos Laredos translates to Owls of the Two Laredos, the two Laredos in question being Laredo, Texas, United States and Nuevo Laredo, Tamaulipas, Mexico. (In case you can't figure this out on your own, the two cities are just across the border from each other on the Rio Grande. In fact, the way Nuevo Laredo got founded is that after the Mexican-American War, some people living in Laredo decided they wanted to remain in Mexico and moved across the river.) The "Dos Laredos" in the team name is not just marketing: the team plays half of their home games at a stadium in Laredo and the other half at a stadium in Nuevo Laredo.
I have, I freely admit, no idea how precisely that works. How efficient are the border crossings between the two cities (in case you hadn't guessed, the two cities are on opposite sides of the Rio Grande), and how easy is it for los Tecolotes and their opponents to cross the border? Does the team have training facilities in both cities? Do they sell separate (half-)season ticket packages for each stadium or just one for the whole season? I'm not saying the use of two stadiums in two countries makes it impossible or even especially difficult for them to operate, but I'm curious as to how all this works. The website is no help: maybe it answers at least some of these questions, but it's in Spanish only, and I don't know Spanish. (I'm mildly surprised it doesn't have any English, but only mildly, since I figure most people living in a city that borders Mexico and is 95% Hispanic are at least somewhat fluent in Spanish.)
This is not the first incarnation of los Tecolotes to play in both cities, by the way. There have been three baseball teams in the area called los Tecolotes. The first, los Tecolotes de Nuevo Laredo, played from 1940 to 2003. They added games in Laredo in 1985, and changed their name to los Tecolotes de los Dos Laredos when they did. What possessed them to do this I don't know, but considering the fact that they stayed in town for nearly twenty years splitting their games like that, and considering that a later attempt at a team just in Nuevo Laredo only lasted three seasons, it seems to have been a good move. No wonder this latest attempt is going back to the two-city arrangement. Apparently two Laredos really are better than one.
The logo highlights the "Dos Laredos" by having a monogram (if you can call it that in this instance) of a 2 and an L. The L in the logo is red, white, and green for the Mexican flag, and the 2 is blue with some stars in it for the American flag. I guess they figured the L already has red and white so there's no need to overdo it by putting them in the 2 as well. The stars (there are five of them) of course represent the five times the team has won the Mexican League title, as is standard practice for Mexican League teams. There's just one problem, which is that the team didn't win any of them.
See, Mexican League teams seem to take the attitude that if two teams played in the same city, they're the same team, and when a team moves it becomes a completely different team. So if los Tecolotes of the 1950s-1980s won five titles, then those five titles belong to today's Tecolotes, never mind the fact that los Tecolotes of the 1950s-1980s moved to Tijuana back in 2004. The actual franchise that is today's Tecolotes, as best as I can determine, has only won one title, back in 2012 when they were los Rojos del Águila de Veracruz. So as I see it the team is entitled to one of those stars, not five. But I guess only one star would look pretty stupid. Plus I'm probably the only person who cares about this. I'm guessing you don't actually care about this. I should probably just delete this paragraph, but I'm going to leave it in here, just because.
Anyway, that's how they represent the "Dos Laredos" part. As for the "Tecolotes" part, they highlight that by, um, well...they don't really highlight it at all, when it comes right down to it. They have the word in the circle surrounding the baseball, but they also have "Dos Laredos" in that circle and they clearly felt that wasn't enough. Couldn't they have, I don't know, maybe had an owl's head in the background instead of that stupid baseball?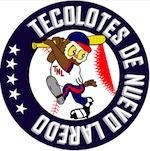 The previous team that played in just Nuevo Laredo had an owl in the logo. It was poorly drawn, but it was there. And the original Tecolotes de Nuevo Laredo had an owl in their logo as well. Did the previous incarnation that played in both Laredos also not put an owl in the logo? Maybe it's some weird issue with transporting owls across the border?
Yeah, I know, that's a stupid idea. I told you I have no idea how that whole playing-in-two-countries thing works.
Final Score: 37 points.
Penalties: Equipment, 13 pts; Letter, 24 pts.
Bonuses: None.
---
This page Copyright ©2023 Scott D. Rhodes. All rights reserved