| | | |
| --- | --- | --- |
| | Columbus Cottonmouths | 7 |
---
Notice: All logos on this page are included within the parameters of 17 U.S.C. § 107, which states that the reproduction of a copyrighted work for purposes of criticism and/or comment is not an infringement of copyright. No challenge to the copyrights of these logos is intended by their inclusion here.
---
Posted 2017 January 12
About twenty years ago, I was an off-ice official in the Central Hockey League (at Fayetteville Force games, to be specific). My usual job was tracking plus/minus. As such things go this is a fairly easy thing to do. For the most part you just watch the game, and when someone scores a goal, you quickly jot down the jersey numbers of the players on the ice. And truth be told, it's even easier than that. Thanks to the fact that most teams have set lines, you just make it a point early in the game to jot down what the lines are, and then when the goal happens you just see which line is on the ice for each team and quickly check to see if there are any changes from the usual line. There will be the occasional hiccups, but all in all it's pretty easy to do. It's certainly easier than being in charge of awarding assists, which basically requires spending the whole time keeping track of who has the puck and who had it last. All in all, it's a cushy gig.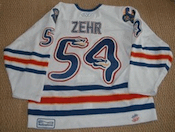 But man, I used to hate it when the Columbus Cottonmouths came to town. Why? Look to the right. Yes, that's a couple of snakes in the shape of the number 54. All their jerseys were like that. Not only are those a phenomenal eyesore, but they're also hard to read at a distance (and the table where I sat was actually above the highest row of seats). I always dreaded those games. I can't imagine what it must have been like for the poor guy handling assists.
Based on the videos I found online, it looks like they've finally gotten rid of those numbers and replaced them with normal ones. I'm sure the off-ice officials in the SPHL are thankful. It not only makes their job easier to perform, it just makes the jerseys look better.
For that matter, so does the new logo. The Cottonmouths have never had a bad logo, but this is definitely better than the previous ones. All the scales in the old logo were a bit busy, especially since there was a gradient effect in each and every scale. This logo is much cleaner. And even though I usually prefer the staring-right-at-you effect in logos, something about that didn't quite work in the old logo. The eyes look fiercer on this logo even though they're clearly less realistic. And the teeth look more intimidating. I'm not exactly sure why any of this is true, but this logo just works better.
Incidentally, one night when the Cottonmouths were in town one of the off-ice officials who normally handles the penalty box was absent, so I took his place. I handled the visiting team's penalty box — i.e., the Cottonmouths'. The Cottonmouths, for the record, were a fairly chippy team in those days, and at one point in the third period I found myself in a penalty box with five, yes five players. The benches in the penalty box barely hold three people, so two of them were standing, along with me. And you can probably guess that if there's barely room for three people to sit, there's barely room for three more to stand. What I'm saying is that it was very crowded. And in case you haven't thought of this yet, I was the only one of the six people in that penalty box who hadn't been sweating profusely for the past couple of hours. The smell was indescribable, and even if I could describe it you wouldn't want me to.
I won't say I never complained about having to do plus/minus with those ridiculous jersey numbers again. But that night did put those complaints in a certain perspective.
Final Score: 7 points.
Penalties: Alliteration, 2 pts; Name-Logo, 2 pts; Fade, 6 pts.
Bonuses: Local, -3 pts.
---
This page Copyright ©2016 Scott D. Rhodes. All rights reserved